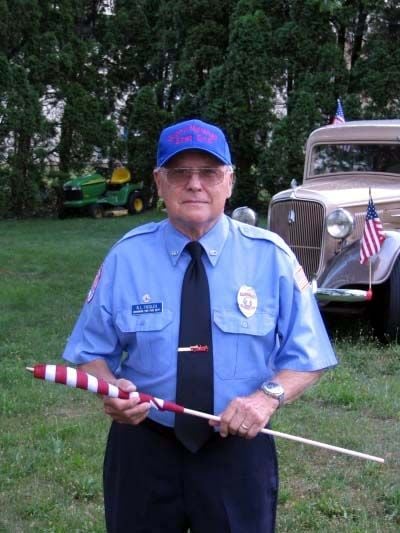 After 54 years of service as a fire department member, former East End Chief Robert Fiegles's name will be a permanent part of the home he loved.
Fiegles, who served as fire chief in 1968, 1975 and 1976, had "public service in his blood," recalled his son, Stephen Fiegles. Stephen spoke at a special ceremony at the May 18 meeting of the Mahoning Township supervisors, where they unveiled a new plaque commemorating Robert Fiegles.
Christine DeLong, chair of the township supervisors, said the East End Fire Department has requested the plaque be placed in the main hallway of the municipal building, so everyone who enters can see it.
Robert Fiegles, who still lived in the township, passed away this past January at the age of 82, due to a cardiac arrhythmia. He had also been battling Alzheimer's for several years as well as more recent ailments such as pneumonia, according to Stephen.
While he couldn't fight fires as he got older, Fiegles stayed active with the department until his health deteriorated about 2008 or so, according to current Chief Leslie Young.
The plaque was finished and delivered to the township in April, but the supervisors wanted to wait until Stephen could make the trip from his Laurel, Maryland, home in order to present it. The plaque reads, "In Memory of Robert F. Fiegles, Mahoning Township Fire Department, 54 Years of Dedicated Service," before listing the years he served as chief. Beneath that, it says "Gone, but never forgotten."
Also at the plaque's presentation was Robert Fiegles' daughter, Sheri Fiegles, and his family friend and caregiver Vicky Sawyer. Sawyer also cares for Fiegles' daughter, who lives in the township and has special needs.
"He was a true gentleman," Sawyer said. "Living in Mahoning Township really meant a lot (to him)."
"First and foremost, he just loved the fire service and dedicated all of his life to it," Stephen said. When he was older and physically couldn't fight fires, Robert Fiegles still stayed involved by taking videos of the department's response to fires and other incidents, providing the tapes to East End as an educational tool.